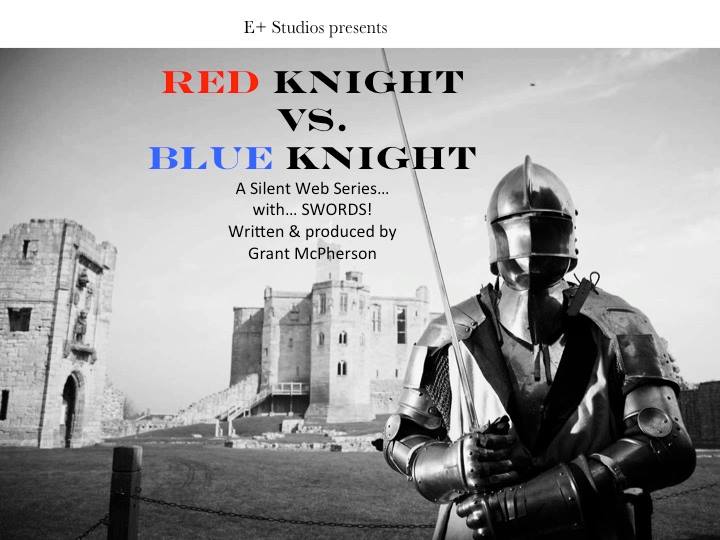 In 2018, E+ Studios created their first web series written, produced, directed, and co-edited by Grant McPherson (an E+ client), "Red Knight vs. Blue Knight a silent web series… with  Swords!"  The series, which won an Honorable Mention at the 2018 LA Underground Film Forum festival, has been noticed by the organizers of Webfest Berlin.
Grant and Dennis Curry, Program Director at E+, have been invited to attend the Webfest Berlin 2018 festival to talk about the series and all that E+ is doing in the world of digital media.
Webfest Berlin is the first international festival in Germany dedicated to presenting, recognizing and advancing short form digital series from around the world. The fourth edition of Webfest Berlin will take place on September 7 and 8, 2018. Attendees gain exposure to some of the most innovative story-telling techniques, market trends, and newest production technologies.
Attending the festival would give Team E+ the opportunity to not only continue to communicate to the world all that takes place at DDSO-Employment Plus, but to also develop relationships with those who purchase the type of digital media projects E+ Studios produces.
E+ estimates that the total cost to get Grant and Dennis to Berlin – airfare, food, transportation, and hotel will be approximately $4,500.  They need your help. Every dollar donated helps to get the team to ever-increasing international recognition and connections.
Please mail donation checks directly to E+ Studios at 2331 St. Marks Way, Suite F1, Sacramento, CA 95864. For more information call (916) 973-1966 or email eplus@ddso.org.