JOIN THE KINDNESS CLUB



The Kindness Club is a community of donors who feel compelled to join forces and support the most vulnerable members of society. Your annual $50 membership donation goes to support people with intellectual and developmental disabilities by providing program supplies and equipment, transportation to community events, supplies for personal hygiene, and promotion of art exhibits, performances and events. Kindness Club members are also invited to attend events, share info with friends, encourage others to get involved, and volunteer at art exhibits. They are integral to sustaining program activities and growing a community of dignity, respect and purpose.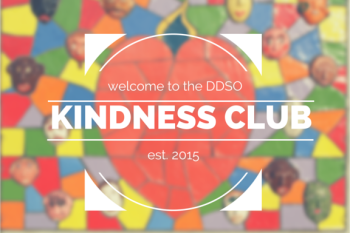 All Members Receive:

Listing on the DDSO website
Recognition on social media including Twitter, Facebook, Instagram and LinkedIn
Inclusion in DDSO monthly newsletter
Recognition at DDSO Special Events
Opportunities for giveaways, including event tickets, discounts, and artwork

Thank You To Our Awesome Founding Members:

Andrea Bibelheimer, Skate MD, Michael Shimizu, Yvonne Soto, Darby Patterson, Rabia Reed, Cheryl Lock, Lori Cochrane, and Phil Kampel!


line break
Join the Kindness Club today, and let's partner to keep community opportunities thriving!
Developmental Disabilities Service Organization is a 501(c)3 nonprofit organization, Federal Tax ID #23-7428879. Donations are tax-deductible and support DDSO's mission to to enrich the quality of life for persons with intellectual and developmental disabilities by fostering individual growth, creativity, and community involvement through innovative strategies and artistic expression.