Every year at Uncork for the Arts, one person is chosen from each of DDSO's programs to be recognized and celebrated for their unique contributions as valuable members of our community. Congratulations to our 2016 honorees! You are each an inspiration.
Debra Anderson, Community Integration Program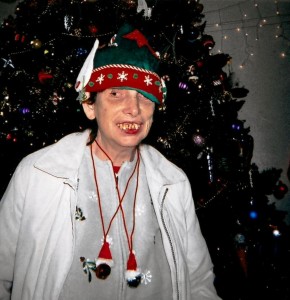 Blindness nor epileptic seizures won't define who she is. Debra Anderson is a fighter. From the day she was born prematurely on April 27, 1955 at the Oakland naval base hospital to the day she landed in DDSO's CIP Program, Debra continues to live each day to the best of her abilities.  As a young girl, Debra attended the Brail Institute of America and the California State School for the Blind where she was taught skills to overcome her disabilities and how to lead a fulfilling life despite adversities she faced.
During her childhood and into her adult years she suffered from grand mal seizures. After years of suffering, she was fortunate to receive an electrical implant called a vagus nerve stimulator. The vagus nerve stimulator was placed in the back of her neck around the vagus nerve with a power source in her chest. This enabled her caregivers to stop a seizure by simply swiping a magnet across the battery pack, which would send an electric pulse to her brain. This implant has almost entirely healed Debra of her seizures.
The unconditional support from her family instilled a positive outlook in Debra that she could do anything she set her mind to. Debra lived with her parents and worked at Pride Industries where she packaged almonds for Blue Diamond and cleaned tables at Cold Stone Ice Cream Shop. Determined to be independent, Debra diligently rose to the occasion every morning to get herself ready and take the bus to work.
When her time came to retire, Debra began attending CIP where she remains active. Not only does she volunteer at the church cleaning tables and vacuuming, she participates in bowling, music class, and continues to set goals to reach new milestones. She especially enjoys assisting CIP staff and her peers in the program. On weekends she stays busy shopping with her sister and niece for clothes or art supplies and puzzles which she likes to donate to CIP. She also attends a recreation program and enjoys playing ZINGO which tests her memory by challenging her to remember the numbers on a card.
Debra enjoys "people who make you smile" and it is because she makes us all smile that she was chosen CIP's 2016 Outstanding Participant.
Jose Bodas, Short Center North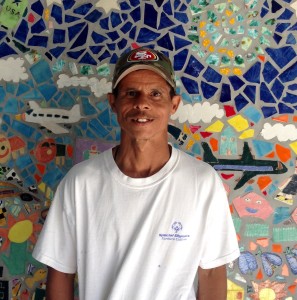 Always willing to lend a helping hand when needed, Jose Bodas is a friend to everyone around him. His positive attitude and perseverance has carried him through many of life's challenges that he has overcome with an unyielding spirit. The admiration and respect he's gained by both staff and his peers has earned Jose the honor of being named the 2016 SCN Outstanding Participant.
Jose has had exemplary attendance at Short Center North for 19 years. He is a talented artist who excels in all artistic mediums and is featured in almost every SCN exhibition. Jose's art has also been displayed at the California State Fair for the past 15 years and the Tangent Art Gallery for the past five years. In 2014 his art appeared in "Many Happy Returns" at the Verge Center for the Arts and in 2015 at the Fe Gallery exhibit "Fauna Anomaly".
Jose lives his life to the fullest potential. In his spare time, he enjoys cooking in his apartment where he lives independently. He takes the bus to program where his talents truly shine. Whether creating a piece in Val's ceramic class or sewing together a quilt in Kathleen's class, Jose puts his best effort into every creation. His gentle persona belies his determination and zeal to do the best that he can in everything that he does. Those who have the privilege of knowing Jose respect and admire this gentle giant.
Belen Hernandez, Short Center South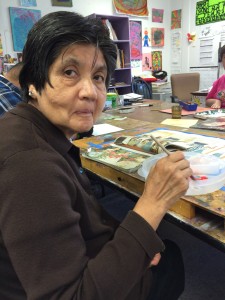 Belen's art is colorful and detailed.  Her art instructor, Jared, describes her as very talented, patient, and meticulous in mixing colors. The vivid colors in her paintings jump at the viewer and her attention to the smallest details are delightful. Belen thrives at SCS. Her participation in the program enables her to continuously improve her artistic skills. With just a little coaching and encouragement from SCS's artistic staff, Belen produces art that has been selected to be shown at the Fe Gallery and WAL (Warehouse Artists Lofts) in Sacramento.
Belen comes from a large, close knit family with five sisters and two brothers. Two of her siblings live in Sacramento, while the rest reside throughout San Francisco, Oakland, Los Angeles and Miami, Florida. Belen lives at home with her parents where she helps out as much as possible, especially in caring for her mother who suffered a stroke in 2010. Belen enjoys cooking for her mom and dad as well as making dishes for SCS staff on special occasions, who always look forward to her delicious concoctions.
Belen's warmth and kind disposition are evident to everyone at Short Center South. She is always considerate of others and mindful of ways she can help, and it is her compassion and selflessness that earned Belen the honor of being chosen as the 2016 SCS Outstanding Participant.
Emma Aguirre, Achievement, Development and Care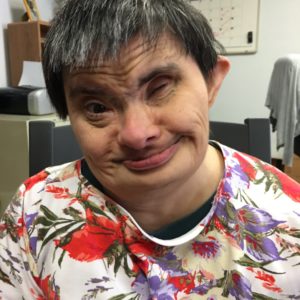 Emma was one of the very first students when ADC began in 1984. She has been with us throughout our entire 32 year existence – over half her life! Emma's world has markedly changed from where she started. She was living at home with her mom and dad who cared for her and even made some of her clothes. She had her own room and fresh cooked homemade foods her mother prepared. After years of caring for her, Emma's mother became too ill to continue and Emma was placed in a care home. Her sister, Juanita, who'd always been involved in her life, began to increase her visits to day program and always brought along Emma's nephew and nieces so they could see their "Auntie Emma."
Years passed and, sadly, Emma's parents passed away. A few years later, she lost her care home and recently moved into another home. All this time, Juanita maintained her visits to Emma at ADC and Emma's care homes, finally becoming her legal conservator to ensure her health and safety.
Emma was chosen specifically because she has endured all the changes that have come about in her life with dignity and grace and always, always a hug. She is the everyday client who lives a normal life with all the daily trials and increased health issues that come with age and living with a developmental disability. She takes life in stride despite the many challenges someone in her world faces: changes in staff, routine, and bus drivers, transportation issues outside of her control, having others choose her clothes, shoes and food for the day – all while being unable to communicate when she's in pain and relying on those who care for her to see the earliest signs of discomfort and help her.
Despite years of living with these challenges, Emma has not changed her personality one bit since she began here at ADC 32 years ago. Emma takes her time in getting to know you, but once she does, she will win you over with laughter and hugs. She has not shied away nor grown weary in her journey, but instead lives her life with a smile and a hug for anyone willing to receive one. She is receiving this award for getting through life with a smile and simply for being and remaining the best Emma she could be.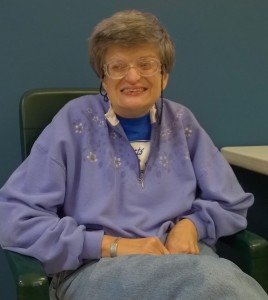 Anne Clayton, Transitions for Tomorrow
*Written by Anne's sister
Anne has a big heart and a love for animals of all kinds. One of her favorite things to do is visit the Sacramento Zoo. She will then tell you all about what she saw – baby tigers, lions, even snakes.
Anne will also reach out to strangers to say hello and ask for their name. She always follows this by emphatically saying "nice to meet you!" The biggest impact that T2 has had on Anne's life is with her communication skills. Because of the individual attention and time the T2 staff gives her, she tries to use words and sentences more than she ever did in the past. The staff's patience allows her to take the time to practice and communicate what she wants to say. It has been a major confidence booster for Anne, and means so much for the family. It has helped open up her world.
I am thrilled that Anne has been chosen as the 2016 T2 Outstanding Participant. It really demonstrates how much she has grown since joining the program and how she truly thrives in the DDSO environment.
Likewise, the staff of T2 want to acknowledge how much Anne has opened their world with her sweet disposition and temperament. Anne, you are our hero and what we should all strive to emulate.
Join us on Saturday, August 27 for a toast to our remarkable honorees! Get your Uncork for the Arts tickets here.