One person from each of DDSO's programs are selected to be honored at Uncork for the Arts on August 15th (get tickets here). Check out the amazing stories of these rockstars!
Short Center North Honoree – Randy Reitz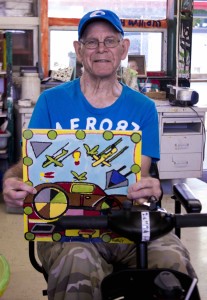 Randy Reitz, Short Center North's 2015 Outstanding Participant, is described as an all around good guy.  He never let cerebral palsy slow him down or define who he was. With grit, patience, and determination he stays focused on every project he undertakes.  At SCN he isn't afraid to try different things.  His favorite class is the Tools for Life class with Donna, where he gets to say what is on his mind.
He enjoys doing stained glass, ceramics and cartooning.  He did a quilt in Kitty Cardoza Bennett's sewing class, which took quite a lot of energy to make.
Randy lives in a Mentor home.  Every other week Gary Meir, a mentor, picks him up to go out to lunch and to see movie.  He likes to go to Hometown Buffet and Subway.  Randy's hometown is in Fresno, where he worked in a nursery.  He has one sister in Lincoln.   He will be 75 years old in May.  He remembers going to San Franciso and Santa Cruz with the County Recreation Program.  At camp he enjoyed being among the peaceful Redwoods, riding the train, staying in a cabin and making s'mores.
Alan Short Center Honoree – Ge Lor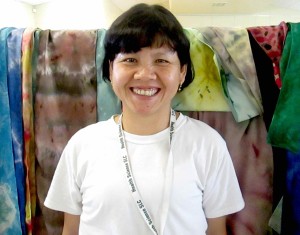 Ge Lor has attended Alan Short Center since July 2006.  Ge suffered a fever right after birth which caused developmental and physical impairments, including hearing loss.  Ge and her family emigrated from Thailand.  The family had lived in refugee camps through much of their lives.
Ge currently lives with her parents.  She has three older brothers and one younger sister.  Ge understands and signs private sign languages and has learned some American Sign Language.  She can read lips and has no trouble communicating her wants and needs at program.  Though Ge cannot read, she can write her full name.
Ge loves to do hands on projects such as art, jewelry-making, knitting and crocheting.  Most of her projects sell quickly.  She also loves to go on community outings, get her nails done, and buy new clothes.  Although Ge cannot hear, she loves to dance and sing to her own tune.
Ge is very friendly, thoughtful, and emotionally intuitive.  She is exceptionally helpful with assisting her peers and takes great pleasure when she can help staff.  Ge continues to grow and does not let her disabilities slow her down.  Alan Short Center staff are amazed with her strength and determination to overcome challenges that would be very daunting for others without her heroic character.  Though diminutive in size, she is a huge inspiring figure to all who know her and that is why she has been chosen the Alan Short Center 2015 Outstanding Participant.
Alan Short Center Community Access Program Honoree – John Ezell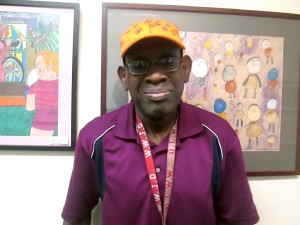 John Ezell was born in Fresno, California and is the second oldest of nine siblings.  He was a resident of Porterville State Hospital for many years and in 1969 moved to a board and care home in Stockton.  He then attended Harrison School in Stockton and had an instructor who taught him to express himself through drawing and art.  Mary Short had seen his artwork on her visits to Harrison High School.  She knew that John would "age" out of special education when he turned twenty two years, and that was a catalyst for starting an "art center" for adults with developmental disabilities, The Alan Short Center.
John Ezell was the first client at the Alan Short Center when it opened in 1976.  The Alan Short Center was DDSO's first arts-centered program and much of its success was showcased by John's artistic talent.  John thrived when he had the opportunity to work with professional artists.  His ceramic work is part of many local art collections. John is multi-talented.  He draws, does fantastic ceramic figures, sings, plays the handbells, guitar, drums and starred in several Alan Short Center theatre productions. He also has hosted his own cable TV show, "The Cool Papa John Show."
John was cast in the play "Fatso," which was written by Joe Parente.  John said that being in Fatso was fun and exciting with lots of action.  He remembers all of the cast members.  They took the play to the Renaissance Fair in Nevada, to Disneyland and to New Orleans. John learned to sing and carry a tune through his experience in Fatso.  John also learned how to strum a guitar from UOP interns who came and taught music at the Center.
John enjoys drawing and painting and using his imagination.  Most of all, he loves making decorations for all of the holidays.  Attending the program has taught him that good grooming was essential.  So many of the Alan Short Center staff have influenced him to be a better person.  He remembers Paul Sershon, Matt Rhodes, Alan Falstreau, and Alice and Joe Parente.  John said that they have helped him control his outbursts and to have a positive attitude. John continues to grow and overcome adversity.  He does not let anything get in the way of bettering himself and we are proud to announce him as the Alan Short Center Community Access Program (ASCAP) 2015 Outstanding Participant.  John we are so proud of you.
Achievement Development and Care Honoree – George Fontes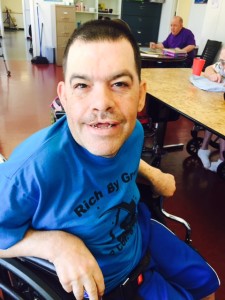 George was one of the first ADC clients when the program began in 1984, and his talkative, outgoing personality has made him the ADC ambassador.  Whenever there is a public relations moment for ADC or DDSO, George is chosen to be our spokesperson.  He charms every audience and helps us get "our story across."
George works in the Pilot Project sorting and packing plastic model airplane parts.  Workers in this project are paid depending on their production based on the Department of Labor Prevailing Wage Time Study.  He enjoys working in the project along side his favorite teacher "Big Elba."  George also loves to read books with Judy, "My Pal."  George assists ADC staff by delivering messages; he also delivers the mail, helps in the office, and helps sort the recycled cans that help fund ADC activities.
ADC was begun by DDSO thirty years ago to serve persons with severe and profound disabilities who did not at that time have another community program.  Since that time T2 & CIP were developed because of the great need in the community to serve this group of underserved individuals.  George's heroic spirit has been an inspiration to continue and grow services to individuals with intensive needs and we are so pleased to have the privilege of presenting George Fontes as ADC 2015 Outstanding Participant.