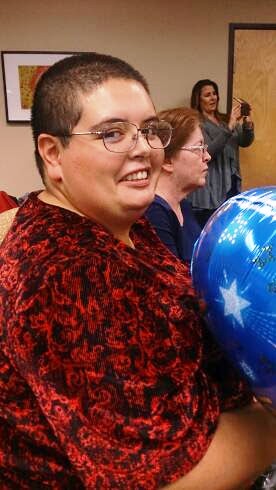 Outstanding Short Center South Client, Pattie Barajas, was recognized today, November 19, 2015, at SCDD and ACRC's 2nd Annual Celebration Event! 
The California State Council on Developmental Disabilities (SCDD) and Alta California Regional Center (ACRC) joined together to recognize 10 individuals out of the almost 20,000 served by ACRC who have achieved a personal goal in the past year. We are excited to announce that Short Center South (SCS) Client, Pattie Barajas, is one of the incredible winners!
"Pattie has attended Short Center South since 2010. During the first four years of attending our program, she had a very difficult time following directions and not causing physical fights with others.  During the past year, Pattie has demonstrated an excellent overall adjustment to the art program by not exhibiting any serious maladaptive behaviors toward other individuals. Pattie did have a severe prior case history of aggressive/verbal deportment towards others. She currently is actually assisting others in controlling their tempers and articulating to them to exhibit more appropriate socialization skills.
The staff at the Short Center South program believes that Pattie Barajas should be recognized for the tremendous effort in changing her overall adaptive demeanor in being more socially acceptable within the community. She is currently working on a part-time basis; Monday, Wednesday and Friday from 12:30pm to 2:00pm at the Short Center South office as an Office Assistant and providing excellent overall employment services. Congratulations, Pattie!"
– Steven Andrews, Program Director, Short Center South