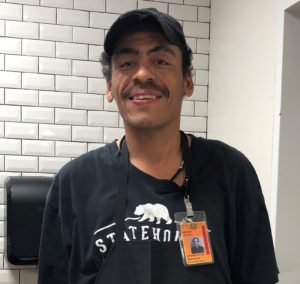 Thanks to you, over 400 people with intellectual and developmental disabilities received continued care and support this year.  On behalf of them, thank you for enhancing their lives and giving them the opportunity to be productive and have dignity.
We envision a world where people with intellectual and developmental disabilities live healthier and enriched lives, and are nurtured by caring and supportive communities that minimize and eliminate barriers.
One client we have helped is Zach, who joined the DDSO – Employment Plus* team in 2011. He instantly shined in his training courses and continued to build his confidence and skills through on-site paid janitorial and landscaping jobs.
In 2017, an opportunity came our way to have participants at E+ interview for a position at the Statehouse Restaurant at the State Capitol. Without hesitation, Zach accepted the opportunity to interview and, no surprise, he was hired.
Since then, because of his consistent "Can Do" attitude, his work hours and responsibilities have increased, and recently he has even been a part of the crew for many catering events.
Zach still finds time to participate in many advocacy events each year, is now living independently in his own apartment, and enjoys a vibrant social life.
Every day, your support makes stories like Zach's possible. 
When you support DDSO, you help build this community of acceptance and encouragement to growth. You help people like Zach meet and conquer challenges and truly be a part of their community.
Would you be willing to make a special year-end donation of $50, $100 or whatever you can afford to help us? Your support will make a real, lasting impact in the lives of those who are still in need of our services.
Your contribution makes it possible for DDSO to serve hundreds of participants like Zach each year. Please click here to make your donation now.
Thank you for your continued support and friendship.
*Employment Plus (E+) provides opportunities for participants to make their own choices and decisions regarding their everyday life, allowing them to participate in and contribute to community through coursework, paid on the job training, community association, volunteer activities, and ultimately employment.