The Biale family of Vintage Deluxe Trailer Shop has been restoring and up-cycling broken-down vintage trailers for years, often collaborating with artists from around the world to create custom painted, one-off pieces of art. Currently, we are thrilled that they are collaborating with DDSO on a vintage teardrop trailer built on a 1919 Model T frame!
Six artists from Short Center North were each chosen to create a panel for the teardrop trailer, which will make its debut at Second Saturday Art Walk on February 9 at the Elks Lodge in Downtown Sacramento.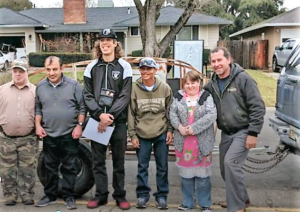 Here are the artists: Matthew Crouch, William, Ashley Clark, Jose Bodas, Karianne Shipman and owner of Vintage Deluxe Trailers, Ron Biale. (Not pictured: Brett Cevola)
Here's a preview of the panels our artists have created: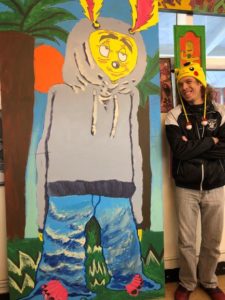 Ashley drew a giant version of his original character, Denny, who is part human and part rabbit. "Art helps me get my brain focused," says Ashley, "I used to yell and cuss and hit, but now I can express my feelings through my artwork."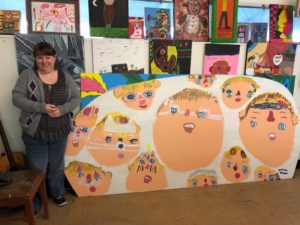 Karianne used to stay home and trace and sketch pictures, but decided to join DDSO's Short Center North about a year ago because she was looking for a place she could expand her art and maybe even sell some of her pieces.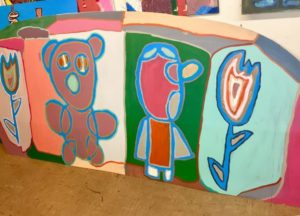 Jose Bodas painted one of the large side panels with flowers, a bear and a human in color blocks.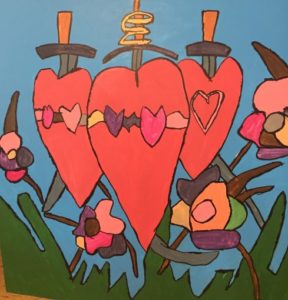 Matt Crouch took 2 weeks to create his heart and flower painting. He likes to draw grass and flower art as well as superheroes. "I like drawing my own comics," says Matt. His favorite activities at Short Center North are gardening, drawing and ceramics.
T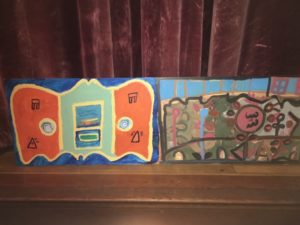 his final panel was created by Brett Cevola (left side) and William Haddad (right side).
Needless to say, this teardrop trailer is going to be amazeballs. Thank you @vintagedeluxetrailershop for your commitment to the community, your love of art, and your big hearts!
Join us for Second Saturday on February 9 at the Elks Tower in Downtown Sacramento for a first viewing!