October is National Disability Employment Awareness Month. DDSO's Employment Plus program provides opportunities for participants to contribute to the community through coursework, paid on-the-job training, community association, volunteering, and employment! Every week this month, we'll be regularly FEATURING some of our employed program participants. Get to know them and what they do!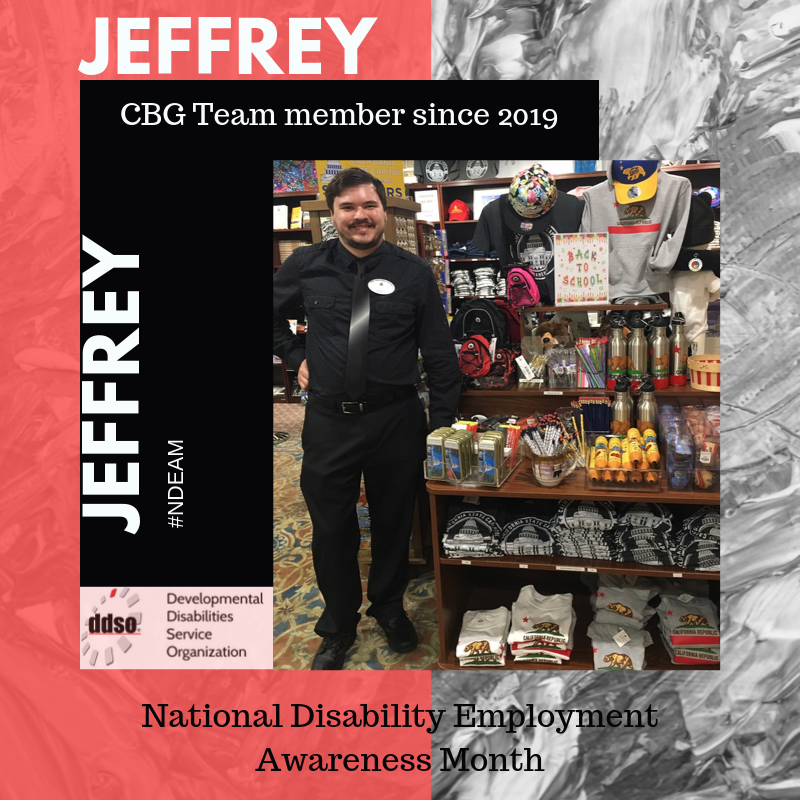 Our very first featured participant is JEFFREY!
Jeff began working at Capitol Books and Gifts last month in September. He filled in the shoes of Jenny, a former DDSO Short Center South participant who retired after 27+ years, and was well-known among Capitol staff. As one of DDSO Employment Plus's superstars, Jeff is a great fit! Jeff is now working as a store clerk, assisting the sales associates with customer service, stocking merchandise, bagging, and promoting CBG products and services to legislators and their staff. 
HOBBIES AND ACCOMPLISHMENTS: Jeff has lived in Sacramento his whole life. Jeff is a busy man: in his free time, he enjoys playing video games and helping his mother with yard work, repairs, and cooking. Jeff like sports, and participates in the Special Olympics bowling and basketball teams. Jeff has even won gold medals swimming competitively for Special Olympics! 
HOPES AND DREAMS: Jeff says he would like to be a camera operator someday making movies, TV shows, and/or music videos. He has also considered a game developer career, with the idea of making games like his favorite video game Halo 3, or cartoon games for kids and teens. He draws inspiration from his sister, who works in the film industry as a director and assistant producer on movies like Alita: Battle Angel. Jeff is also working on earning a driver's license and hopes to eventually have his own car. 
OVERCOMING CHALLENGES: One of the aspects of working as a store clerk Jeff found challenging was knowing what words to use when answering customer questions. He overcomes this challenge by practicing his communication with family and friends about what to say and what items customers want to know about.
FAVORITE PART ABOUT WORKING: Jeff likes working because of the CBG staff. He gets along well with everyone and thinks they are all nice. Ande is Jeff's favorite coworker!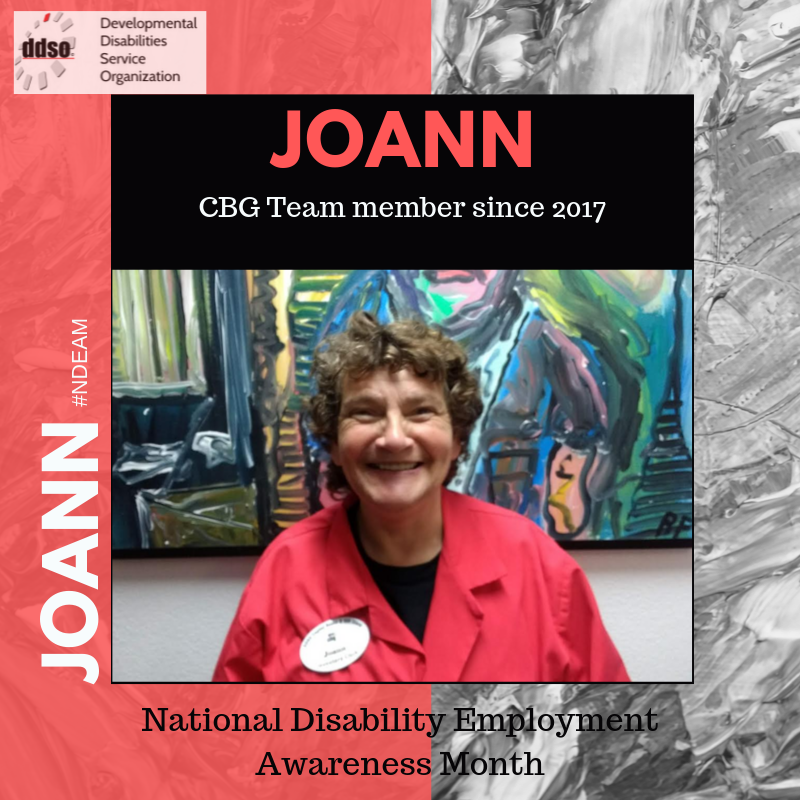 Our next featured participant is JOANN!
Joann began working for CBG part-time in 2017, in addition to her long-time part-time job with E+. She left DDSO for a while before coming back, and we are so glad to have Joann with us every week! She works for E+ landscaping and doing janitorial on DDSO's St. Marks campus, and on Thursdays she works for CBG doing inventory. She is a hard worker, and always does her best. 
INTERESTS: When Joann wants to relax, she focuses on doing absolutely nothing! Her favorite color used to be red, but she doesn't have a favorite color nowadays. Joann likes to spend time with her daughter Nicole, and her granddaughter Anna. 
OVERCOMING CHALLENGES: One of the aspects of working Joann found challenging was riding her bike to work when it rains, since she doesn't like wearing a raincoat. Otherwise, Joann usually enjoys that rain since she likes the weather. Besides the rain, she also thinks she looks funny when she wears a helmet because of how it looks on her head. Joann doesn't like taking photos of herself, but decided we could have her permission to do so for this featuring. Thank you Joann!
FAVORITE PART ABOUT WORKING: Joann likes working because it keeps her busy. She likes that she's able to meet people like the Admin staff at DDSO. However, her favorite part about working is when her manager at CBG, Stacey, gives her presents! Sometimes CBG will receive sample inventory, and Joann thinks its the best feeling right at the moment when Stacey gives her a present.

Stacey Hilton, manager of Capitol Books and Gifts said:
"Joann and Jeffrey are hard workers and valued team members. At Capitol Books and Gifts, having a diverse team is one of our greatest strengths. We reflect the diversity of our customers, and they appreciate that and feel welcome here."
Did you know that all proceeds from Capitol Books and Gifts benefit DDSO? Peruse the online offerings here, and check out the physical store located at 1303 10th Street, Sacramento, CA 95814 to find handmade jewelry, scarves, and artwork from the DDSO Short Centers. All of our artists personally earn commission on artwork that sells in store.